Discover more from Backbencher
Politics, economics, domestic policy, and a smattering of culture.
Over 1,000 subscribers
The pro-choice president who's about to make abortion illegal
If Donald Trump believes in anything, it's sexual freedom.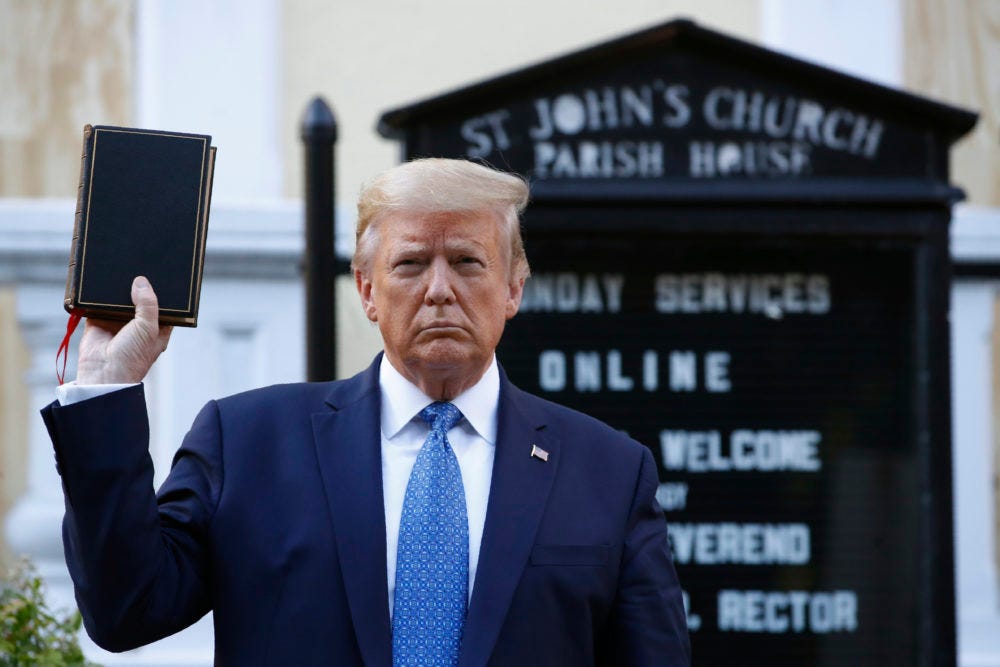 It's virtually certain that the third nominee Donald Trump chooses to put on the Supreme Court will be strongly opposed to abortion. If that nominee is confirmed, and if, as a consequence, the Supreme Court overturns Roe v. Wade, then Trump—in defiance of public sentiment—will have ended a half-century of legal abortion throughout the U.S.
But does Trump honestly oppose abortion? We know he pledged in 2016 to appoint justices who would overturn Roe. But there's ample reason to doubt that he is—as he's (mostly) said publicly since 2011—"pro-life."
This fierce protector of the unborn is a thrice-married philanderer who's bragged about grabbing women "by the pussy" and been accused by 26 women of sexual assault. He's hung out at Studio 54 and told Playboy magazine "I don't have to answer that" when asked whether he was monogamous. Not long before entering his seventh decade he married a fashion model who during their whirlwind romance posed nude for British GQ. Guys like that seldom end up opposing abortion—and when they do it's generally part of a program that includes regular attendance at some identifiable place of worship.
But don't take my word for it. Take Trump's.
As recently as 2000, Trump declared himself publicly to be pro-choice. In 2004 he suggested that when his then-girlfriend Marla Maples was pregnant with his daughter Tiffany, he raised the possibility of an abortion. In 2013 he said, "It's never been my big issue." 
In 2015 Trump declared himself to be pro-choice and then, after being prompted, corrected himself and said he was pro-life. Whoops!
In 2016 he said about abortion, "The laws are set, and I think we have to leave it that way." Whoops!
Around the same time Trump said, "Such an interesting question" when asked whether he was "ever involved with anyone who ever had an abortion."
Trump's former private attorney says Trump is pro-choice. Both women whom they paid off to keep quiet about extremely plausible allegations of extramarital sexual relations with Trump said he didn't use a condom. "I don't like these things," the future commander-in-chief said, according to one of the women.
I list below a chronological sequence of statements Trump has made about abortion. They are, it seems to me, the words of a man who never stopped being pro-choice, either consciously or through revealed preference. To borrow a phrase that Hendrik Hertzberg coined to describe the twice-married former Hollywood actor Ronald Reagan, Donald Trump has all the markings (at least on matters related to cultural mores) of a "closet tolerant."
But don't take my word for it. Read the statements below and decide for yourself. Then scratch your head at the idea that the person who said these things is about to make abortion illegal.
About 300 people gathered inside to honor Robin Chandler Duke, the president emeritus of the National Abortion Rights Action League, which sponsored last week's abortion rights march in Washington.

The guests paid $500 each for an evening of dinner and speeches by pro-choice advocates, including Morgan Fairchild, Joanne Woodward, Dr. Mathilde Krim, Arthur Schlesinger and Judy Collins, who sang.

The organizers of the dinner said they will use the proceeds to continue an intensive advertising campaign in print and television to strengthen the voice of the pro-choice movement. 

Donald J. Trump, a co-sponsor of the dinner and owner of the Plaza Hotel, at Fifth Avenue between 58th and 59th Streets, did not attend the event.
—New York Times, April 13, 1989
Well, look, I'm very pro-choice … I just believe in choice … I am strongly for choice … I am pro-choice in every respect.
—Donald Trump, telling Tim Russert on NBC's "Meet the Press" that he wouldn't ban "partial-birth abortion," Oct. 24, 1999.
I support a woman's right to choose … but I am uncomfortable with the procedures.

When Tim Russert asked me on 'Meet the Press' if I would ban partial-birth abortion if I were president, my pro-choice instincts led me to say no. After the show, I consulted two doctors I respect and, upon learning more about this procedure, I have concluded that I would indeed support a ban.
—Donald Trump, The America We Deserve, 2000.
I'm glad it happened. I have a great little daughter, Tiffany. But, you know, at the time it was like, 'Excuse me, what happened?' And then I said, 'Well, what are we going to do about this?' [Marla Maples] said, 'Are you serious? It's the most beautiful day of our lives.' I said, 'Oh, great.'
—Trump on "The Howard Stern Show," January 7, 2004.
I am pro-life.
—Trump to the Conservative Political Action Conference, Feb. 10, 2011. At the time he was considering whether to enter the 2012 presidential primaries.
One thing about me, I'm a very honorable guy. I'm pro-life, but I changed my view a number of years ago. One of the reasons I changed -- one of the primary reasons -- a friend of mine's wife was pregnant, in this case married.

She was pregnant, and he didn't really want the baby. And he was telling me the story. He was crying as he was telling me the story. He ends up having the baby and the baby is the apple of his eye. It's the greatest thing that's ever happened to him.

And you know here's a baby that wasn't going to be let into life. And I heard this, and some other stories, and I am pro-life.
—Donald Trump, explaining to the Christian Broadcasting network why he changed his mind on abortion, April 8, 2011. At the time he was considering whether to enter the 2012 presidential primaries. One month later he announced that he would not.
Howard Stern: I know you, I know you. There is no way that you personally are against abortion. You know there's too many motherfuckers running around here out of their minds. They got people having babies, they can't take care of them. You got women who … who wants a baby on the planet that nobody's gonna take care of? We got a ton of them as it is, and thank God there's abortion. I know you believe that.

Trump: Well, it's never been my big issue, Howard, and you know somebody asked me and I say 'pro-life,' but it's never been an issue that really has been discussed with me in great detail, to be honest with you.
—Trump on "The Howard Stern Show," Feb. 6, 2013.
Jake Tapper: Let me ask you about a few social issues because they haven't been issues you have been talking about for several years. I know you're opposed to abortion.

Trump: Right. I'm Pro-Choice.

Tapper: You're pro-choice or pro-life?

Trump: I'm pro-life. I'm sorry.
—Trump on CNN's "State of the Union," June 28, 2015
You look at different things having to do with Ben [Carson] and there's a lot of contradiction and a lot of questions … You know, like Ben was pro abortion not so long ago, as everybody has told me. I don't know it personally, but that's what I'm told -- I've been told and all of a sudden he's so hard on abortion under no circumstance, virtually, can there be exceptions. And you say, well, how does that happen where you were pro and not long ago, by the way, and then all of a sudden you can't even have exceptions?
--Trump on MSNBC's "Morning Joe," Oct. 27, 2015
I am very, very proud to say that I am pro-life.
--Trump at Republican primary debate in Cleveland, Aug. 6, 2015. 
Chris Matthews: Do you believe in punishment for abortion, yes or no as a principle? 

Trump: The answer is that there has to be some form of punishment. 

Matthews: For the woman. 

Trump: Yeah, there has to be some form. 
--Town Hall meeting in Green Bay, Wisc., March 30, 2016.
The issue is unclear and should be put back into the states for determination.
-Trump campaign clarifying previous, one hour after the quote leaks.
If Congress were to pass legislation making abortion illegal and the federal courts upheld this legislation, or any state were permitted to ban abortion under state and federal law, the doctor or any other person performing this illegal act upon a woman would be held legally responsible, not the woman. The woman is a victim in this case as is the life in her womb. My position has not changed.
--Trump campaign press release retracting both the original statement and the initial clarification, two and a half hours after the quote leaks.
John Dickerson: You had said you wanted, you told Bloomberg in January, that you believed abortion should be banned at some point in pregnancy. Where would you do the ban?

Trump: Well, I, first of all would have liked to see this as a state's rights issue. I would have preferred states' rights. I think it would have been better if it were up to the states. But right now the laws are set and that's the way the laws are.

Dickerson: But do you have a feeling how they should change. There are a lot of laws you want to change, you've talked about them on everything from libel to torture. Anything you would want to change on abortion?

Trump: At this moment the laws are set, and I think we have to leave it that way.
—Trump on CBS's "Face the Nation," aired April 3, 2016. CBS released an excerpt on April 1.
If this is his position, he has just disqualified himself as the GOP nominee. At some point, the candidate's words must stand on their own. What do you believe, Mr. Trump? No one knows.
—Marjorie Dannenfelser, president of the anti-abortion group the Susan B. Anthony List, April 1.
Mr. Trump gave an accurate account of the law as it is today and made clear it must stay that way now --until he is president. Then he will change the law through his judicial appointments and allow the states to protect the unborn. There is nothing new or different here.
—campaign statement, April 1, 2016.
"What I said was perfect. . . . What I said was so good, it was so perfect," he said. "The only reason I tell you this is because I want you to watch it. Now if I did something wrong, I wouldn't want you to watch it.
—Trump during campaign stop in Racine, Wisc., April 2, 2016.
Given his draconian comment, sending women back to back alleys, I had to ask: When he was a swinging bachelor in Manhattan, was he ever involved with anyone who had an abortion?

'Such an interesting question,' he said. 'So what's your next question?'
—Maureen Dowd column in the New York Times, April 2, 2016.
'I thought she was sort of kidding,' [Trump] said. 'The answer is 'no.'

Then he added, 'I respect Maureen Dowd. I think she is a great writer.'
--interview with Mary Jordan of the Washington Post, April 8, 2016.
As part of the division of labor in the campaign, I was assigned to lead the outreach to faith communities on behalf of Trump, mostly because having Roger Stone attempt to make those connections would be a farce. It was at this time that Paula White called me and said that she wanted to put together a group of evangelical leaders to meet with Trump and discuss his potential candidacy…. More than fifty religious leaders came to Trump Tower to meet the Boss in a conference room on the 25th floor…..

As an organizer, I went to watch the proceedings, and what I saw was amazing, to put it mildly….. As the evangelicals inhaled Trump's Norman Peale horse shit, they solemnly asked to approach to 'lay hands' on him…. I could hardly believe the performance, or the fact that these folks were buying it.

Watching Trump, I could see that he knew exactly how to appeal to the evangelicals' desires and vanities.—who they wanted him to be, not who he really was.  Everything he was telling them about himself was absolutely untrue. He was pro-abortion; he told me that Planned Parenthood was the way poor people paid for contraception. He didn't care about religion…. He could lie directly to the faces of some of the most powerful religious leaders in the country and they believed him—or decided to believe him…. He knew what they really cared about—the core, core beliefs. Anti-abortion laws, Supreme Court justices, opposition to gay marriage and civil rights, and the cultural war-like rhetoric aimed at godless liberals…. I knew then that he would ride all the way to the White House.
—Disloyal, a 2020 memoir by Michael Cohen. Cohen is the private Trump attorney who in Aug. 2018 pleaded guilty violating campaign and other laws in connection with hush money payments he made to the porn actress Stormy Daniels and the Playboy model Karen McDougal. The two women were threatening to go public with stories of having sex with Trump in 2006, the same year Melania gave birth to his son Barron. 
Both women said Trump did not use a condom. "We talked about it, right beforehand," McDougal told CNN's Anderson Cooper. "Then he's like, 'I don't like these things.'" McDougal also told Cooper that she voted for Trump in 2016.